7 Trendy Outdoor Stone Veneer Designs to Upgrade Your Backyard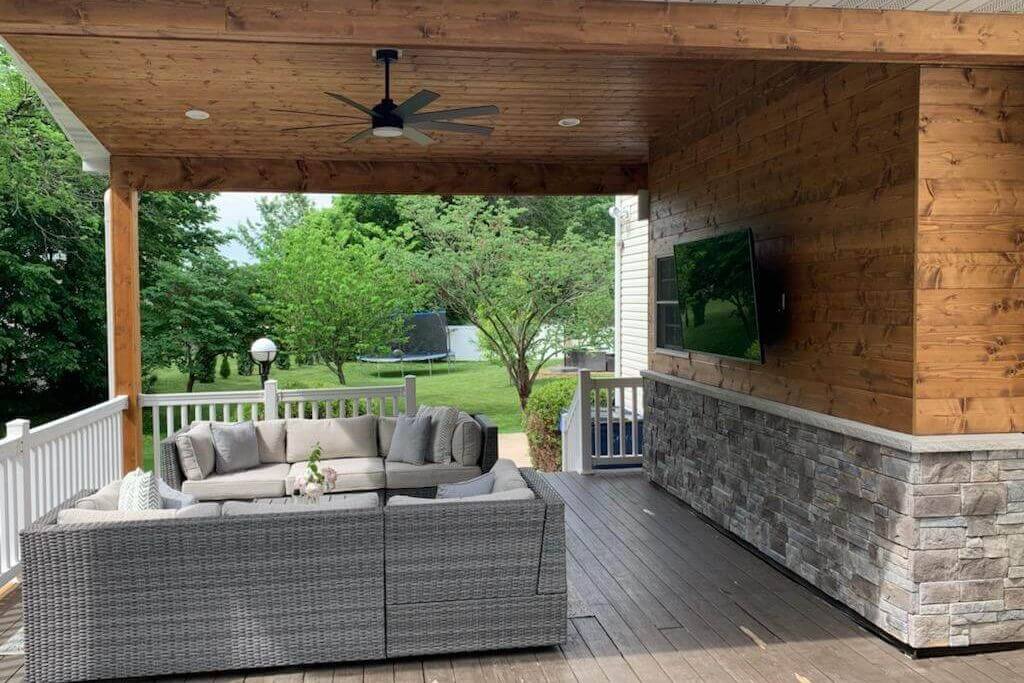 Your backyard is more than just a patch of grass; it's a canvas waiting to be decorated with your creativity! It's time to give your backyard a makeover that rocks – with stylish stone veneer.
Transforming your backyard with outdoor stone veneer isn't just a renovation – it's a revolution. In this article, we will explore seven trendy outdoor stone veneer designs that can dramatically enhance your backyard. We'll delve into the many ways you can use outdoor faux stone to create a backyard that's not just beautiful, but breathtaking.
So, sit back, relax, and let's embark on this journey of backyard transformation together!
Outdoor Faux Stone Designs for Decks, Patios & Porches
The allure of outdoor faux stone lies in its versatility and ease of installation. It can be used in a variety of ways to add a touch of elegance and sophistication to your outdoor spaces. Here are seven ways you can incorporate outdoor faux stone into your decks, patios, and porches:
Wainscotting: Laying a wall covering over the lower portion of a wall is called wainscotting. Adding stone wainscotting panels to your deck or patio instantly adds a layer of texture and depth. This creates a visually stunning backdrop for your outdoor furniture. There's no other way to quickly add this kind of luxurious warmth to your outdoor space without the price of hiring a stone mason.
Porch Pillars and Columns: Installing faux stone column wrap kits on your porch gives it a robust and rustic look. More importantly, because our rock post wraps have an ultra-precise factory-cut edge versus hand-cut stones, your backyard will get the best of both worlds: rustic charm and well-groomed elegance.
Outdoor Kitchen Accents: If you have an outdoor kitchen, consider adding outdoor stone panels. The striking contrast it provides with stainless steel appliances and wooden cabinets harmoniously balances natural and man-made elements. An added benefit is that these outdoor stone panels protect the core structure of your outdoor kitchen.
Exterior Accent Wall: An exterior accent wall made of outdoor faux stone can serve as a stunning focal point for your backyard. It can be used to highlight a particular area, such as a seating area or a fire pit, and transform it into a space that naturally foments congregation and conversation.
Deck Skirting: When it comes to creating a backyard design that feels simply complete, the difference is in the details. While some outdoor stone panel ideas beautify large square footage of space, this one is a bit simpler in nature. Functionally, deck skirting conceals the open space beneath the deck, providing a clean and finished look while preventing animals, debris, and other elements from getting underneath. Aesthetically, it contributes to the overall design of the faux stone deck, enhancing its appearance and creating a more cohesive and complete look for the outdoor space.
Outdoor Bar or Island: Giving your outdoor bar or island a makeover with outdoor faux stone is an easy and affordable way to add a touch of refinement. Also, because they are not as heavy as stones, outdoor stone veneer panels can be added without requiring additional reinforcement or support. As a result, it's a snap to transform your cocktail area into a more inviting space where you'll build memories with family and friends for many years to come.
Foundation Coverage: Covering your home's foundation with outdoor faux stone can enhance its curb appeal by adding a more refined and natural appearance that can complement your home's overall design. Beyond the cosmetic, it also gives your foundation additional protection against the elements.
Each of these outdoor faux stone designs can transform your backyard into a beautiful and inviting space. Whether you choose one or several of these designs, you're sure to create a backyard that you and your guests will love.
Colors & Textures of Long-Lasting Outdoor Stone Panels

A key aspect of creating a captivating outdoor space is the selection of colors. Affinity Stone offers a palette of fade-resistant colors, ensuring your outdoor veneer stone panels maintain their vibrant hues. With five distinct faux rock siding colors to choose from, you can find the perfect shade of outdoor stone panels to complement your décor and reflect your personal style.
But it's not just about color. Texture plays a crucial role in bringing your outdoor space to life. Affinity Stone offers two product lines, each with a unique texture that adds depth and dimension to outdoor stone veneer. The intricate details and subtle variations in texture make these outdoor stone panels look 100% authentic, closely mimicking the look and feel of natural stone.
Explore and finesse your color and texture choices with Affinity Stone's interactive color visualizer tool here!
Outdoor Stone Veneer Panel Manufacturers
In the realm of outdoor stone veneer panel manufacturers, Affinity Stone stands out. We're committed to providing high-quality, easy-to-install outdoor stone veneer panels that transform your outdoor spaces into stunning works of art. They are designed to replicate the look and feel of natural stone, offering a cost-effective and convenient solution for homeowners and contractors alike.
Our journey began with a shared vision and a passion for creating outstanding products. Today, we're proud to offer a wide range of outdoor stone veneer panels that are not only beautiful but also durable and long-lasting! From wainscotting to porch pillars, and outdoor kitchens to deck skirting, we're here to help you with unique stone veneer ideas for exteriors.
So why wait? Find an Affinity dealer that offers stone veneer for sale near you and start your backyard makeove
Share this post: