Transform Your Exterior with These Modern Faux Rock Siding Color Combos
Homeowners and contractors alike know the importance of a house's appearance and durability, as they directly influence its resale value and overall livability. However, what many fail to realize is the transformative power of selecting the right faux rock siding color pairings to enhance the beauty of their existing structures!
In today's blog, we uncover the secrets to matching faux stacked stone panel colors with other types of siding, along with 4 of the most popular stone and siding combinations, and real home exterior transformations using Affinity Stone. Keep reading to get inspired, or contact an Affinity Stone dealer now to see faux rock siding colors in person today!
How to Pair Faux Stacked Stone Panels with Other Types of Siding
Pairing faux stacked stone panels with other types of siding opens up a world of design possibilities for your home's exterior. Whether you're seeking a harmonious blend or a striking contrast, thoughtful stone and siding combinations can create a visually stunning effect on homes of all sizes.
To help you navigate the process, here are some steps to consider when mixing and matching faux rock siding with brick, siding, or stucco:
Step 1: Decide your focal point – If you want the faux stone to be the standout feature, start by selecting the color and style of the stone panels. Affinity Stone offers a range of options, including five colors and two unique lines of manufactured stone panels. Consider the overall aesthetic you want to achieve and choose a stone siding color and style that aligns with your vision.
Step 2: Select your secondary colors next – Once you have decided on the faux rock siding color and style, turn your attention to selecting the colors for your other exterior materials like siding, stucco or brick. Look for colors that complement or contrast with the faux stone – depending on the vibe you prefer. Take into account the undertones, shades, and intensity of the siding or brick to ensure a cohesive color scheme.
Step 3: Choose a color for accents and trim – To add visual interest and enhance the overall design, consider selecting an additional color for accents and trim. This could include elements like window trims, door frames, or other architectural details.
Step 4: Use landscaping or furniture to pull the whole color scheme together – To complete the color scheme and create a harmonious exterior, leverage landscaping elements or outdoor furniture that aligns with the overall appearance of your property. These elements can help tie everything together and create a cohesive and inviting exterior design!
By following these steps and carefully considering color choices, you can successfully mix and match faux stacked stone panels with other types of siding, achieving a visually stunning and modern exterior for your home. Remember to explore different options, gather inspiration, and trust your personal style to create a unique and captivating look!
Stone and Siding Combinations: Colors that Inspire
When it comes to stone and siding combinations, the right color palette has the power to inspire and transform your entire home's exterior!
Whether you seek a modern, sleek aesthetic or a timeless and elegant look, these 4 stone siding color combinations can unlock endless design possibilities:
Modern Navy Blue and Gray Stone
One of the most popular stone and siding combinations is navy blue siding with light gray stone because the deep, rich navy blue provides a striking backdrop against the cool gray stone which adds texture and depth. This combination creates a bold and eye-catching facade that exudes modern allure! See more about modern shades of grey stone veneer here.
Dark Grey Siding with Stone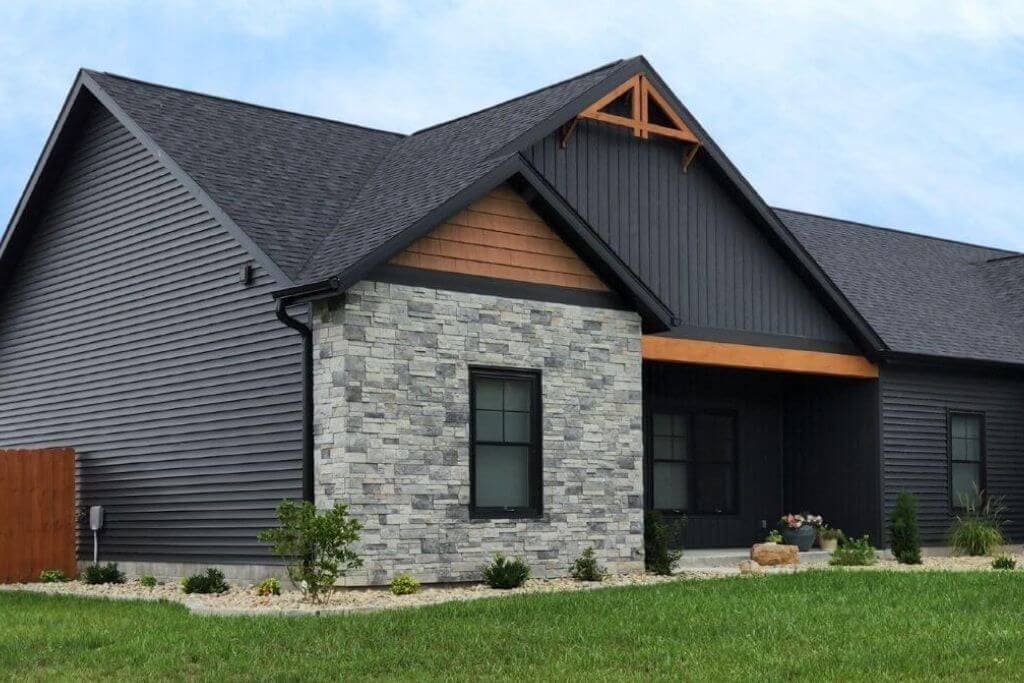 For a refined and balanced look, consider combining dark grey siding with stone that is a lighter shade of grey. The contrast between the darker siding and lighter stone creates a captivating play of shades, lending a sense of depth and dimension to your home's exterior.
Natural Wood Elements with Stone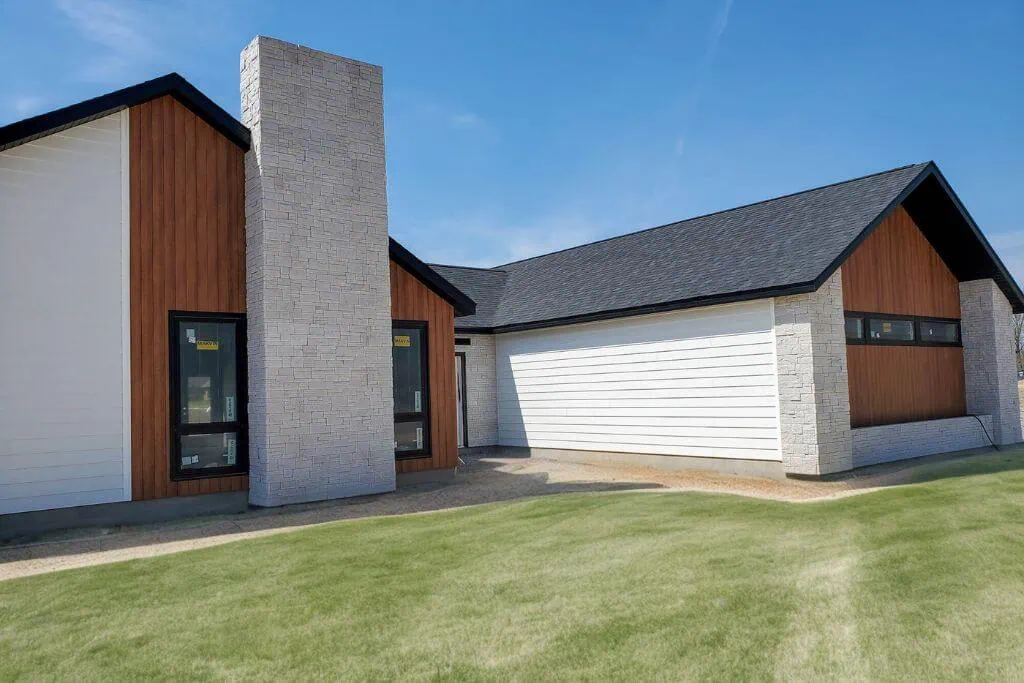 Combine the raw beauty of wood with the rustic charm of stone for a nature-inspired design. Opt for a warm wood siding, such as cedar or redwood, and pair it with earthy-toned stone. The pairing of organic textures and natural colors adds a minimalist and inviting facade that seamlessly compliments the surrounding environment. If you like this deck design, you'll LOVE the other exterior stone veneer idea mentioned in our blog!
Classic White Siding with Black Trim and Stone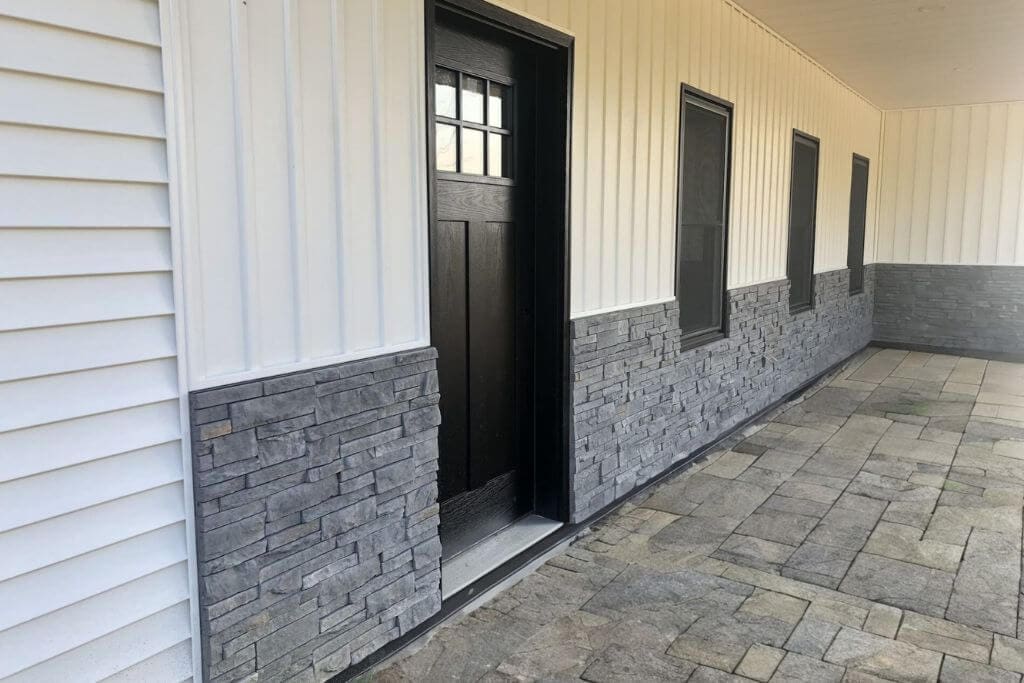 For those who love a classic, farmhouse, or timeless look, white siding with black trim and gray faux rock siding is the epitome of style.  While black and white may seem like a basic duo, a gray stone siding is what brings the entire design together to become a beautiful stone and siding combination!
As you explore these stone and siding combinations, let your imagination run wild and envision the possibilities for your home's exterior.
Take advantage of our new color visualizer, which allows you to upload a photo of your own house or select one from our collection, enabling you to see firsthand how different faux rock siding color combinations come to life. With the right colors and design, you can create an inspiring facade that reflects your unique style and enhances the overall appeal of your residence
Explore Stone Siding Colors from Affinity Stone!
Transforming the look of your home has never been easier with Affinity Stone.
At Affinity Stone, we offer a wide range of stunning faux rock siding colors and styles to choose from, allowing you to find the perfect match for your home's exterior. To explore our complete range of faux stacked stone panel color options, we invite you to explore our website and interactive color visualizer. It's a fantastic way to experiment and find the perfect blend of hues that truly resonate with your design aspirations – without the commitment of ordering products or signing contracts!
Unleash your creativity, explore captivating stone siding colors, and create a facade that will impress for years to come. Discover where to buy Affinity Stone near you to get started!
Share this post: