Accessories
Cohesive Stone Veneer Accessories
When it comes to transforming the exterior of your home, faux stone products can make a huge impact. As one of the most trusted names in the stone panel industry, we offer a variety of stone veneer accessories that can help you take your design to the next level. Our authentic stone veneer accents are crafted with the same level of durability and ease of installation as our panels, allowing you to achieve a cohesive and polished look with effortlessness. From stone veneer electrical boxes to hearthstones and more, our accessories come in a range of sizes and colors, ensuring that you can find the perfect match for your design.
If you're ready to elevate your home's exterior, we invite you to explore our range of stone veneer accessories and order from your local Affinity Stone dealer today.
Stone Veneer Hearthstones
Charcoal
Gray
Ivory
Sandstone
Looking to complete your fireplace, columns, or steps with a touch of elegance and durability? Look no further than our stone veneer hearthstones. These hearthstones are available in four stunning colors and come in a standard size of 20" x 20" x 2", making them the perfect addition to any flat landing pad. With their seamless integration with other stone veneer panels, they add a touch of cohesion and polish to your overall design. With Affinity Stone's hearthstones, you can enjoy a beautiful and practical solution to your design needs.
So why wait? Enhance your home's aesthetics and durability with Affinity Stone's stone veneer hearthstones today!
Stone Receptacle Boxes & Utility Boxes
Single Receptacle Block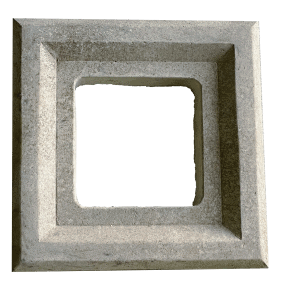 Double Receptacle Block
Light Block
At Affinity Stone, we understand the importance of paying attention to every detail when it comes to your home's design. That's why we offer a range of stone veneer accessories to complement our faux stone panels, including our highly practical utility covers.
Available in three sizes – 8″x10″ light block, 6″x8″ single receptacle block, and 8″x8″ double receptacle block – our utility covers are the perfect finishing touch to your design. These stone electrical boxes are also available in the same four colors as our hearthstones, allowing you to achieve a seamless, coordinated look throughout your home. Our utility covers not only look great, but they also serve a functional purpose by covering up unsightly utility boxes and switches.
With Affinity Stone's stone receptable boxes, you can achieve both style and practicality in your home design. Order yours today!
Note: Utility Boxes are available in multiple colors. See the Hearthstones above for colors available. 
Stone Veneer Wainscot Caps
With Nailing Strip on Top
With Nailing Strip on Bottom
Without Nailing Strip
Our stone veneer caps come in three different models – with a nailing strip on the top, on the bottom, or no nailing strip at all – allowing for easy installation and a seamless look. These caps are designed to complement both our Cliff Ledge and Ridge Cut veneer series and are available in a range of colors to match your style. Whether you're a professional contractor or a DIY homeowner, Affinity Stone's wainscotting caps will help you achieve a polished and cohesive look for your home's exterior.
Get inspired for your next faux stone wainscotting project by exploring some real applications from our online gallery!
Note: Wainscot Caps are available in multiple colors. See the Hearthstones above for colors available. 
Where to Order Stone Veneer Accents
If you're looking to enhance the exterior of your home with stone veneer accents, Affinity Stone has got you covered!
From stone receptacle boxes and electrical boxes to stone veneer caps and hearthstones, we have everything you need to achieve a cohesive and polished look for your home. Plus, our products are available at local Affinity Stone dealers across the country, making it easy for you to get your hands on them. To find your nearest dealer and place an order, simply enter your zip code here!