Unique Stone Veneer Ideas for Exteriors
If Affinity Stone had another name, we might call it "Home Transformation in a Box". That's because there are few products or services that can match the ability of stone veneer to transform the exterior of your home. We're consistently inspired by our customers' creativity — and we're highlighting some of the most unique stone veneer ideas for exteriors that can change the look of your home.
Affinity Stone is a leading manufacturer of stone siding products that look incredible, are easy to install, and last for 50+ years. While homeowners use our stone to bring a flair to their interior spaces as well, today we're focusing on exterior designs. Discover some of our favorite stone veneer ideas for exteriors — and find out how you can bring home Affinity Stone today!
5 Exterior Stone Ideas
The most traditional and most popular way to use stone veneer on an exterior space is stone wainscoting. There's no question that this is a deservedly classic look, but in this blog, we're highlighting exterior stone ideas you might not have seen before!
Full Garage
On many homes the garage is just as key an element of curb appeal as the house itself. Stone siding can make your garage a style standout! In many cases, the garage is the largest and most used entrance to your house — you want every aspect of that entrance to be high-quality and thoughtfully designed. One of the most effective ways to accessorize your garage is by covering the entire garage front with stone veneer — around the doors and all the way up to the gable. For style bonus points, you can tie your garage stone color into another accent wall on a different part of your home.
Outdoor TV Walls
This stone veneer idea for exteriors is actually inspired by one of our favorite interior ideas. If you have a television as part of your outdoor living space (which is quite the unique accent on its own!), we recommend covering or accenting the wall behind it in light-colored stone panels. Whether you choose full wall coverage or wainscoting, the impact will be impressive. The stone brings a visible, but unobtrusive touch to a central part of your beloved patio, porch, or deck!
Doorway
This is one of the highest impact exterior stone ideas. Surrounding the entire doorway to your home showcases the stone look you love in a place that has maximum visibility. From a distance, the stone can contrast well with the look of your entry door. Up close, visitors to your home will have a chance to get a detailed look at the floor-to-ceiling stone pattern!
Outdoor Fireplace
In recent years, outdoor fireplaces have become a staple in outdoor living spaces. Most contractors build them to be safe, efficient, and practical, which is fantastic — but stone can make them beautiful! Whether the fire is lit or unlit, the stone backdrop will serve to enhance the look of the space and will be a true conversation starter. You don't have to wait until your outdoor living space is finished to upgrade it with stone, either — have your deck contractor use Affinity Stone during the build!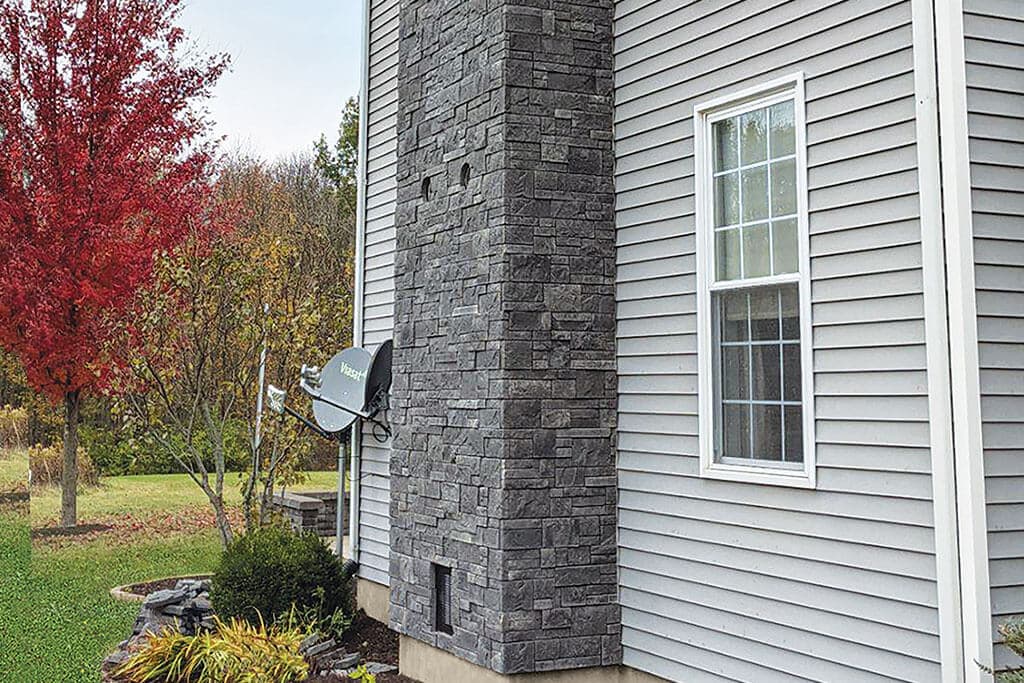 Chimney Transformation
This exterior stone idea doesn't apply to every house, but if it fits yours, we think you'll fall in love. Some homes come built with amazing fireplaces, but the chimney pipe exteriors are clad in the same vinyl siding as the rest of the house. Not only will the vinyl likely deteriorate over time due to the heat, but it's a true missed opportunity to make your home look exceptional. Replacing the plain vinyl with bold stone panels doesn't just improve the fireplace, but your entire exterior, too!
Benefits of Affinity Stone
These creative exterior stone ideas are only as good as the product that backs them up. That's why we want to share the practical strength behind the inspiration. Here's why DIY installers, experienced contractors, and other experts trust Affinity Stone:
Time Saving Installation — Our veneer is 80% faster to install than standard stone.
50-Year Warranty — Our product is backed by a 50-year guarantee, but it will almost certainly last longer.
The Corners Look Great — Some stone veneer products don't look natural around corners — ours has a natural look everywhere.
Stays Attached — Our screw-on siding is extremely strong and will stay attached, even in places where traditional stone would pop off.
See ALL of the reasons people say we build the best stone veneer!
Bring Your Stone Veneer Ideas to Life
Did one or more of these stone veneer ideas for exteriors catch your eye? Here's your chance to bring it home. The easiest way to buy Affinity Stone for a DIY project — or to equip your trusted contractor — is from one of our retail partners. To find your nearest store, click here!
However, if we aren't in a store near you yet, you aren't out of luck. Simply fill out the form at the bottom of this webpage to work directly with us to find a solution!
Share this post: