Style Profile: White Stone Veneer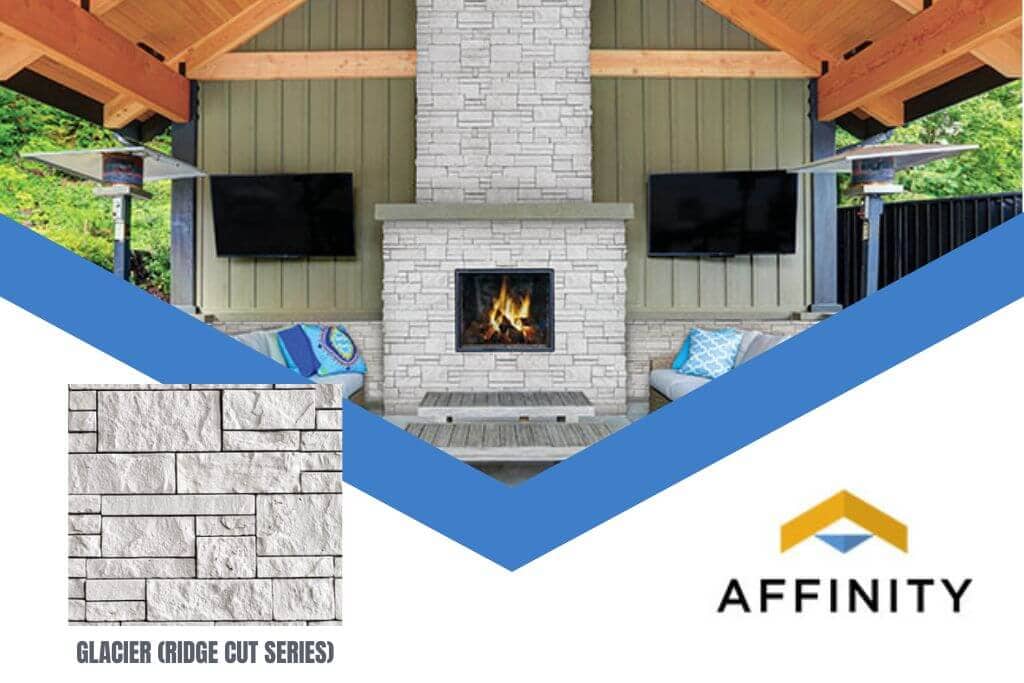 Clean, elegant, and perfect for your home – white stone veneer is one of the favorite colors we craft. This stone veneer shade is a great choice when brining stone to your interior or exterior. Check out our white stone veneer line, Glacier!
At Affinity Stone, we craft a line of manufactured stone veneer that homeowners and professionals love. We're breaking down our lines of white stone veneer – and how they can complete your project. Keep reading to see more or find us in a store near you!
White Cultured Stone
Affinity Stone's line of white manufactured stone veneer is the perfect way to add a touch of sophistication to your home or business. Available in both Ridge Cut and Cliff Ledge textures, our white stone line is the Glacier.
Glacier has a clean, white hue that is our lightest colored line of veneer. The look of Glacier is very even and uniform, making it ideal for a variety of applications.
There are several reasons that white cultured stone is a consistently popular choice for our customers. Here's what to love about it:
Brings Out Other Colors – Our Glacier line is effective at making other colors and designs look more modern. The solid white hue is a great accent, making other colors look brighter and more vibrant. This is why white is such a great choice for interior accent walls.
Timeless – Whether you're looking for a classic or contemporary look, white stone is always a safe bet. And since all of our manufactured stone lasts for 50+ years, you can be confident that your investment will pay off in the long run. So, if you're looking for a color that will always be in style, white stone is the way to go.
Versatile Style – Homeowners everywhere love white stone for its versatility. This color looks great alongside a wide variety of home colors and styles, from traditional to modern. It also works well with different materials, such as vinyl, stucco, and composite siding. Once again, the ability to enhance other colors adds to this standout versatility.
Inside or Outside – While all of our stone veneer colors can be used for interiors or exteriors, white in particular is great for this. It looks exceptional when adorning a doorway or covering a striking chimney. However, it has also been a hit for interior spaces, accenting restaurants and living rooms.
Count on These Practical Benefits of Affinity Stone 
While our white cultured stone earns admiration based on looks alone, there are tons of practical advantages as well. At Affinity Stone, we pride ourselves on offering a high-quality product at a competitive price. Our stone panels are made from the finest materials and are designed to add an extra dimension to your home design. In addition, our panels are quick and easy to install, and can be installed in all weather conditions. Whether you are looking for a traditional or modern look, Affinity Stone has the perfect panel for you.
See more about why contractors say we're the best stone veneer.
Shop White Stone Veneer Right Here
At Affinity Stone, we believe that our stone veneer can be the perfect accent to help transform any home — inside or outside. While we profiled our white stone veneer today, we have a wide variety of styles and colors to choose from, so you're sure to find the perfect match for your latest project!
Simply enter your zip code on our website, and you'll see a list of partners who serve your area. If we don't have a partner in your area yet, don't worry! Just enter your contact information at the bottom of the page, and our team will be in touch. We're confident that you'll love our stone veneer, and we can't wait to help you find the perfect style for your home!
Share this post: