Stone Accent Wall Ideas: Inside & Outside
Stone accents are becoming an in-demand home design trend of 2021, as homeowners and designers fall in love with this unique look. Gorgeous stone veneer makes this look accessible. Check out these stone accent wall ideas that can make an impact anywhere — inside or outside.
At Affinity Stone, we craft easy-to-install stone veneer panels and stone column kits that make this trend more accessible than ever. Discover just a few of the ways you can incorporate stone panels throughout a space. Keep reading to see our favorite stone wall ideas — and find out how you can bring Affinity Stone products to your project!
3 Exterior Stone Wall Ideas
Your home exterior — or curb appeal — influences so much about your home (including its value) but is one of the hardest things to change. Installation of stone veneer accents can make ordinary siding look eye-catching and bring an upscale feel to your entire home. These are a few of our favorite exterior stone wall ideas for homes of all sizes:
Full Front Door Coverage
Make the entry of your home a true showstopper with gorgeous stone. Firstly, this entryway accessorized with stone will play off the rest of the siding for an attractive multi-faceted design. On top of that, your guests are guaranteed to get a closer look at your entryway and the beautiful stone all around. This exterior stone wall idea works because of how it changes the home appearance from the street and from up close as well.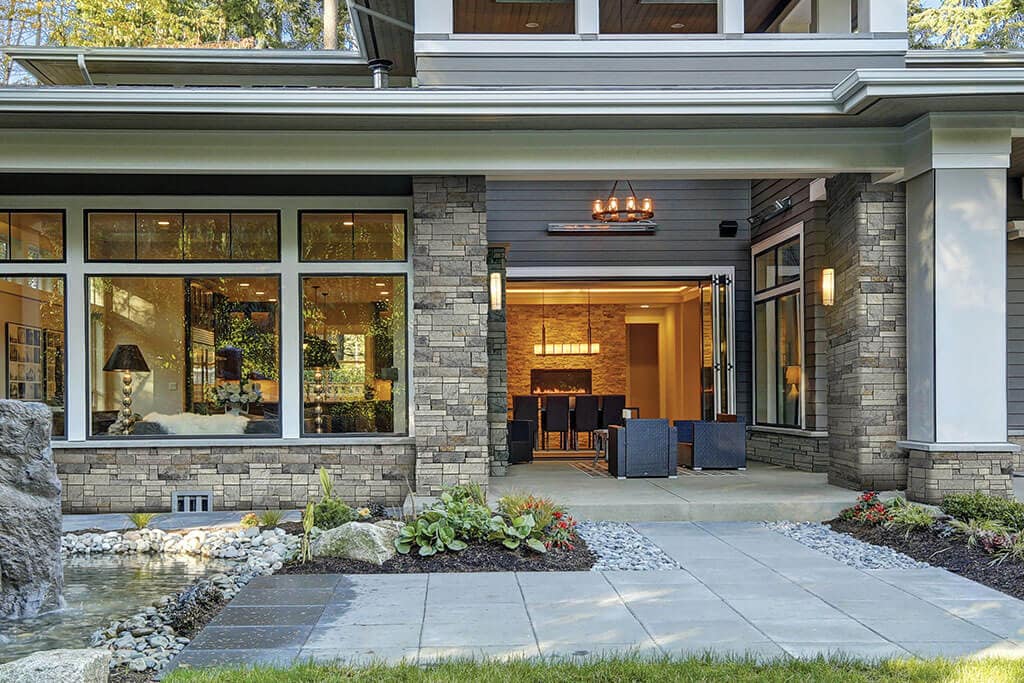 Columns & Wainscoting
For the right home, this outdoor decor difference maker can't be topped! While it may not require a full stone wall, it certainly boasts the same level of impact. Using stone wainscoting and wrapping the central columns creates a two-tier design that truly changes the feel of the house. If your home doesn't have columns to wrap, adding stone wainscoting alone can make for a very dramatic feel — especially if the stone color complements the siding color.
Garage Upgrade
On many suburban homes, the full garage takes up a lot of space on the house but doesn't add much to the style. This exterior stone wall idea makes your garage the star of the show. By upgrading the space with gorgeous stone panels, you turn one of the most boring parts of your home exterior into one of the most exciting!
3 Interior Stone Wall Ideas
While painting an interior accent wall a contrasting color may make a small impact, opting for a stone accent wall makes a statement! Some homeowners may have never considered using stone veneer inside their homes, but once they've seen the possibilities, they'll be obsessed with it. Check out these interior stone wall ideas that can fit a variety of home styles:
Television Wall
All eyes right here! This interior stone wall idea brings new excitement to your living room design. In most homes, the wall that the main television sits against or is attached to is left intentionally blank — but that doesn't mean it should be boring. By bringing a full accent wall of stone to your living room, you complement or contrast the other walls in a way that a simple coat of paint never could.
Dramatic Stone Fireplace
If you have a fireplace in your home, it's likely already one of your favorite elements of your home right now. Make it even better by turning it into a full accent wall. With gorgeous stone running all the way to the ceiling, it'll look even more beautiful when it's aglow on a dark night. Upgrading a fireplace with stone is such a smart idea because fireplaces tend to be centrally located in most homes, so this upgrade will have an opportunity to make a big impact. Plus, this is also one of the most affordable renovation projects as well. Learn more about what stone veneer should cost!
Master Bathroom Wall
While the rest of these stone accent wall ideas show off your dramatic sense of style to guests, this one tends to be a bit more private. Putting a stone wall in your master bathroom makes it feel like a genuine spa right in your home. The sleek look of stone veneer also brings a modern feel to the bathroom as a whole, pairing well with on-trend white, black, and gray master bathroom color schemes. Considering different color options? See all of your stone veneer color choices right here!
Bring Your Stone Accent Wall Ideas to Life
Did one of our stone accent wall ideas featured above catch your eye and spark your imagination? That look can be yours! However, this is just the beginning of what you can do with standout stone panels and a creative imagination — we're excited to see what you build!
Affinity Stone products are currently sold through our network of partner stores throughout the country — and shopping there is the easiest way to get them! Enter your zip code right here to find your nearest stores.
However, if we aren't on the shelves in a store near you yet, we can still assist you. Please fill out the form at the bottom of this webpage and we'll work with you!
Share this post: