From Blah to Beautiful: Stone for House Exterior Transformations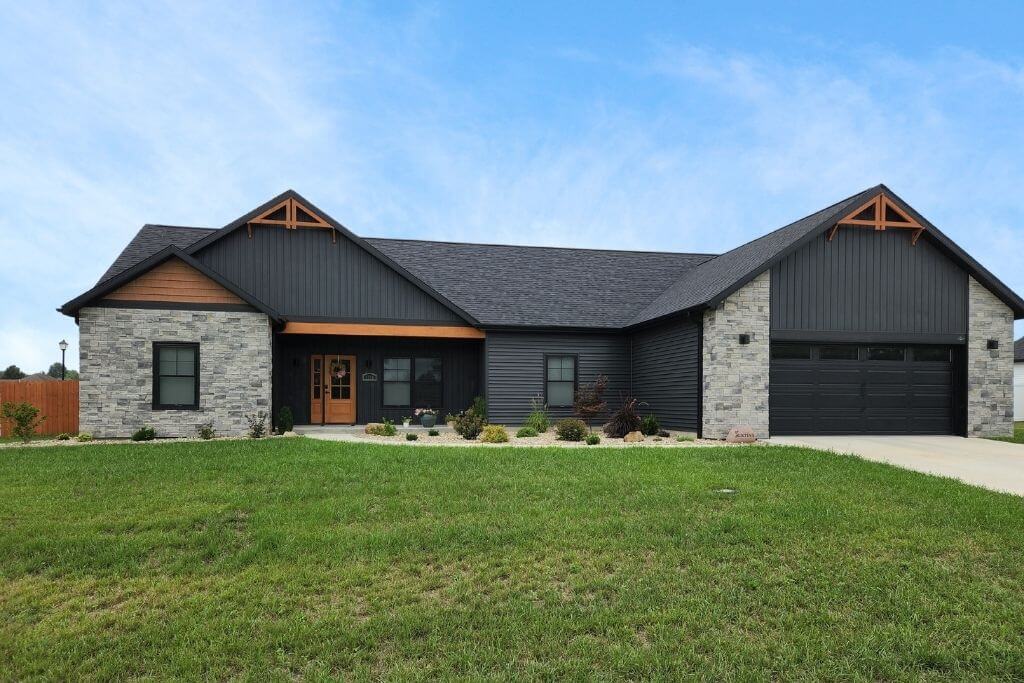 Putting stone on the front of a house has long been a popular option for home exteriors, creating a timeless and classic appearance that increases home value. Despite its beauty, natural stone is expensive, labor-intensive to install, and requires ongoing maintenance.
But did you know, you can achieve the natural stacked stone exterior house aesthetic without the expense, hassle, or upkeep? At Affinity Stone, we believe the elegance of natural stone should be for everyone. That's why we offer a wide range of gorgeous faux stone for house exteriors that mimic the real thing.
Have you always dreamed of putting stone on the front of your house? Make your home the envy of your neighborhood with these ideas to add faux stone to your house exterior.
Stacked Stone Exterior for Houses of All Sizes
The stacked stone exterior house design is a popular trend among homeowners who desire a modern and eye-catching look for their homes. Our stacked stone panels can be used to create a variety of looks, from rustic and natural to sleek and modern.
Ready for some inspiration on using faux stone for a house exterior design? Check out these ideas that showcase the versatility and beauty of faux stone.
Create an Accent Wall – Use stacked stone panels to create a feature wall or accent wall on the exterior of your home. This can be a great way to add texture and depth to your home's exterior, while creating a focal point that draws the eye.
Cover Your Foundation– Using stone for your house exterior is an effective way to conceal unsightly or exposed foundations. For instance, putting stone on the front of your house that imitates the appearance of genuine stone can be an excellent, affordable solution.  This can give your home a more cohesive and polished look, while protecting your foundation from the elements.
Use as Wainscoting – Using faux stone for house exterior wainscoting is another effective method to integrate the appearance of stacked stone into your home's exterior design. By doing so, you can break up the monotony of your exterior walls and create a visually appealing texture that adds interest to your home's overall design.
Install on Pillars or Columns – Another idea to add the look and texture of stacked stone to your house exterior is to cover your home's pillars or columns with stone post covers. This gives the pillars a more substantial and natural look, while tying together the various elements of your home's exterior design.
Highlight Your Entryway – Putting stone on the front of your house can elevate your entryway and add lovely texture, making your house the envy of the neighborhood. Fortunately, this look is easy to achieve with interlocking panels that provide the look of stacked stone for exteriors, without the weight, mortar, or expense.
Add The Look of Stone to Your Whole House – Want to give your house a whole new look and increase your home's value at the same time? Add the look of this stacked stone exterior house idea stacked stone to your whole house exterior for a more natural, rustic, or even modern look. At Affinity Stone, we offer a variety of faux stone options for your house exterior including multiple styles and colors to achieve the look of natural stone you've been dreaming about.
Benefits of Putting Stone on the Front of Your House with Affinity Stone
Now that you've seen the beauty you can achieve using faux stone house exteriors, let's talk about the advantages of transforming the look of your home with Affinity Stone's revolutionary manufactured stone panels.
Amazing 50-year Warranty: Putting stone on the front of your house is an easy decision when we back our manufactured stone panels with a 50-year, transferrable warranty.
Easy & Fast Installation with No Grinding Needed : Whether you choose to install it yourself or hire a contractor, you'll spend 80% less time on installation than you would with most stone veneers. Our innovative tongue-groove system means panels snap together easily for a perfect fit every time, no grinding needed.
Stays Attached Through Decades in The Elements: When using stone for a house exterior, it's important to consider the longevity of the product. While stone veneer products installed using traditional mortar tend to separate from your home after years in the elements, the screw-in panels from Affinity Stone are designed to stay put through decades outdoors.
The Natural Look You Want: When it comes to stone for house exterior, achieving a realistic look and feel is essential. Our stone panels are carefully designed to mimic the look and feel of natural stone, utilizing random patterns for a more realistic stone look. Check out our gallery to see if you can tell the difference.
Incredibly Affordable: Putting stone on the front of your house has never been more affordable with our premier stone panels. Get the quality you want, along with competitive pricing that beats the competition.
Shop Stone for Your House Exterior from Affinity Stone!
Adding the look of stacked stone or putting stone on the front of your house has never been a better investment with versatile and realistic manufactured stone panels from Affinity Stone. Backed by a 50-year warranty and made in the USA, our panels are easy to install and built to stand the test of time.
Ready to explore adding the beauty and elegance of stone to your house exterior? Find a dealer near you to get started!
Share this post: