Stone Veneer Falling Off Houses: Causes & Solutions
In 2022, being able to give your customers the sleek style of dry stacked stone is a must-have for all types of exterior designers and contractors. Of course, that on-trend dry stacked look can come with a serious problem as it often leads to stone veneer falling off houses! We're exploring why certain types of stone veneer fall off homes – and our solution to take care of it!
At Affinity Stone, we build a line of premium stone veneer that delivers the dry stack look without any of the risk of it falling off. In addition to that, our luxury stone pieces are easy to install and come in a range of eye-catching colors. See why stone veneer falling off houses happens, what you can do about it, and our superior product line!
Why is My Stone Veneer Falling Off?
As a professional, you know there's nothing worse than having to go back to a completed job to fix a problem. Not only does it cut into your valuable time, but issues like this erode customer confidence in the work that's been done, making it harder to make them a repeat customer. This is why one of the most commonly asked questions about exterior stone is, "Why is my stone veneer falling off?"
The reason for stone veneer falling off is often because of the popular dry stack style. The mortarless dry stack style delivers an eye-catching modern look that puts the visual focus entirely on the beautiful stone – accentuating the clean, contemporary style the mortarless installation affords.
The specific reason for stone veneer falling off houses is often because moisture infiltrates behind the stone pieces and then freezes. As the moisture freezes, it expands, which overpowers the mortar and causes the stone to pop off. Since there is no grout on the outside to hold it in place, you have stone pieces ending up the ground. In fact, if you read the fine print, you'll notice almost every major manufacturer of stone veneer pieces directly recommends against installing in the dry stack style for this very reason. In the vast majority of cases, this is the exact answer to the question, "Why is my stone veneer falling off?"
As a business owner, the challenge with this is that you want to offer this cutting-edge style to your clients, BUT you don't want to have to re-do work on every stone job you sell.
Our flagship product line may be the exact solution you're looking for!
Dry Stacked Look Without the Hassle
Most stone veneer companies sell stone pieces that you'll attach onto the side of a home or other relevant space. In order to attach those stone pieces, you'll coat the back in an adhesive and stick them to the wall or surface you're covering. While this does get you the dry stacked look you like, it means your installations are at-risk to come loose.
At Affinity Stone, our screw-on stone veneer panels provide the signature dry stacked look without any of the hassle. When you use our line of luxury stone, you screw the complete panel in place rather than gluing on individual stones. Not only does this save an enormous amount of time on the install process, but there is no worry about water infiltration and no risk of the stones falling off! Our product was designed for busy professionals to deliver the ultra-popular style your customers love without any of the hassle that typically goes with it.
Learn more about what makes our stone veneer stand out as some of the best on the market!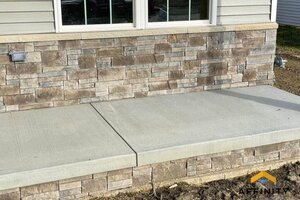 Stop Stone Veneer Falling Off Houses with Affinity
The more that stone becomes a fixture of outdoor design and the more customers who insist on it, the more important a solution to its most common issue becomes. Stone veneer falling off houses can be avoided with the right screw-on stone.  
We always appreciate having conversations with knowledgeable designers, contractors, and other professionals just like you. We encourage you to enter your zip code right here to find Affinity Stone in a store near you – or reach out to our team to ask questions about what sets us apart!
Share this post: