How to Install Stone Veneer in Less Than 1 Day
Loving the look of stone veneer? Easy.
Knowing how to install stone veneer? Not so much.
At Affinity Stone, we're known for making advanced manufactured stone panels right here in the USA. Our innovative tongue-and-groove stone panels are not only stylish, but also easy to install! By following our simple guide and video tutorial, you'll be able to complete a professional faux stone installation in as little as one day. Keep reading to learn how to install stone veneer or find your closest dealer today!
Faux Stone Installation Made Easy
Whether you are an experienced contractor or a handy homeowner, installing stone veneer can be a challenging task if you don't have the proper instruction.  Before you begin installing stone veneer panels, it's important to make sure you have the right tools for the job: here is what you'll need…
What You'll Need:
Personal protective equipment (safety glasses, gloves, etc)
Tape measure & pencil or marker
Laser or chalk line
Level
Dead blow hammer
Drill or screw gun
Saw with masonry blade
Now that you've gathered your tools, let's get started installing faux stone panels!
How to Install Stone Veneer Panels from Affinity Stone:
1. Install the Starter Strip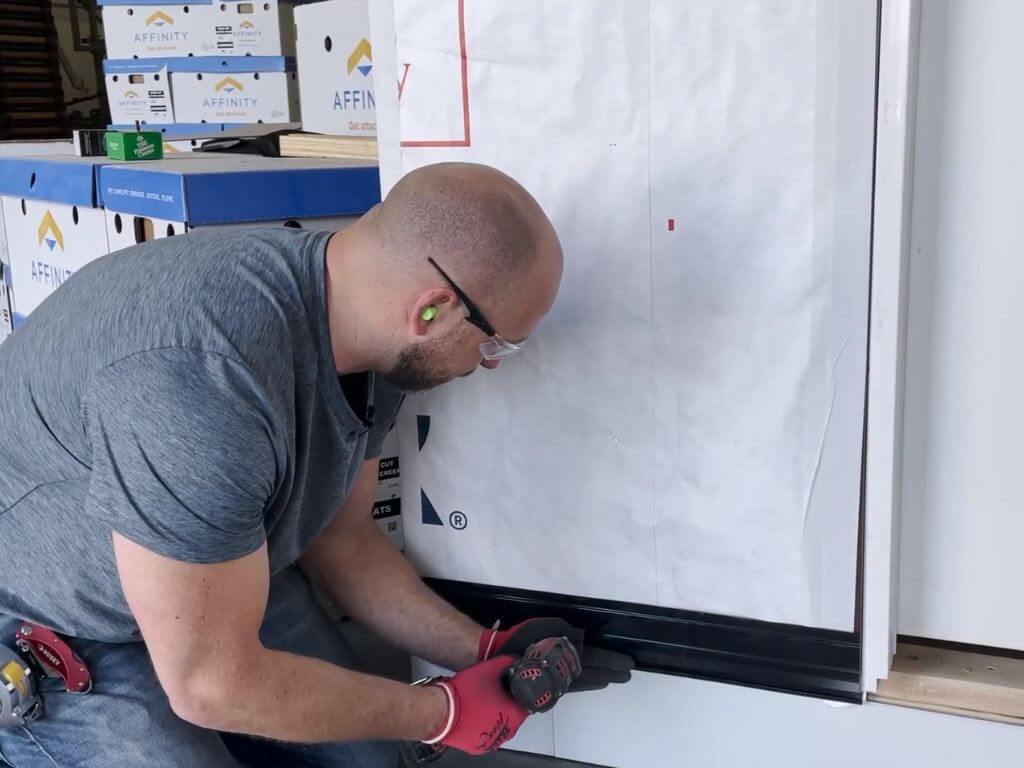 Put the top of the starter strip 4 ¼ inches above where you want the bottom of the stone panel to be. PRO TIP: Leave an additional ½ inch gap between the deck, patio, or other base surface the stone is going on.
2. Set the First Course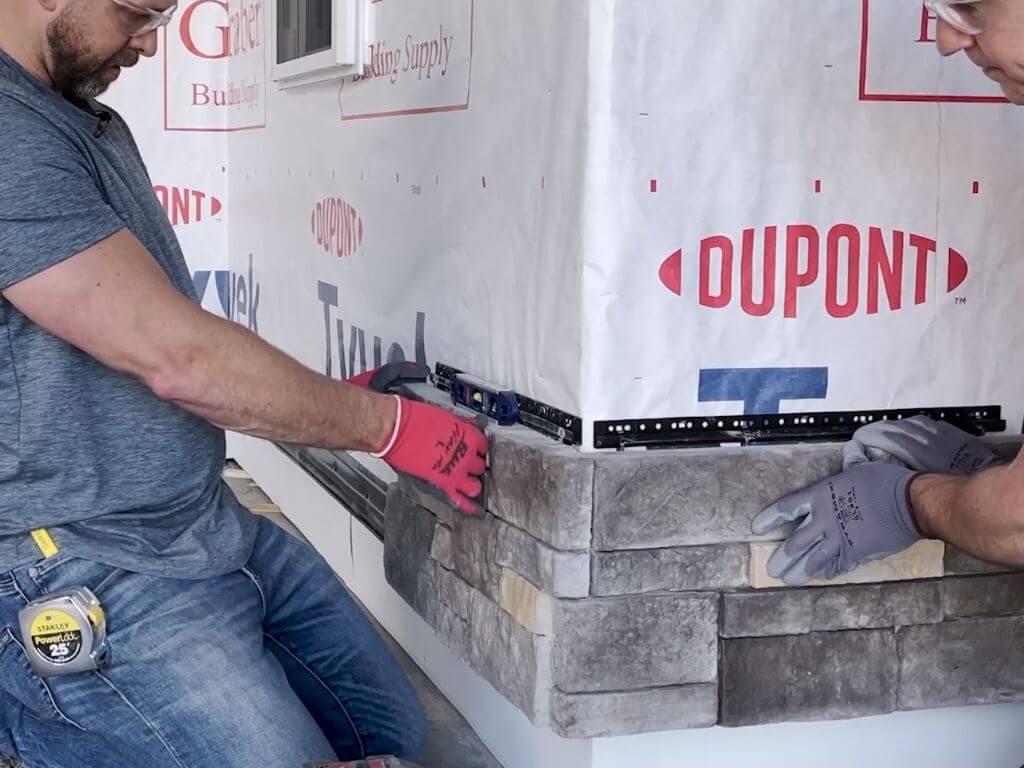 Begin installing stone veneer at the exterior corner of your wall by connecting the panels from right to left. Due to the unique geometry of Affinity Stone's pieces, you'll find installing stone veneer panels in this direction allows for easy stacking! Ensure your connecting panels are flush before screwing in – if it's off-level here, it'll be off-level for the whole wall! Repeat basic installation until the first course is complete!
3. Cut Panels (When Necessary)

 As you begin to stack panels as part of your faux stone installation, you'll want to stagger the lengths to create a natural pattern and break up the seam leading up the wall. To do this, you will need to use a diamond blade and the proper safety equipment to cut the stone panels. Line the edge of the panel directly against the fence of the saw and cut to your desired length.
4. Stack the Panels

Once your stone veneer panels are cut, stacking is easy! Use a panel that you cut in half to begin the second course to help break up the Z-seam going up the wall. Following the initial partial panel, alternate with a whole panel – repeat pattern as needed.
5. Install Wainscot Cap

Choose your favorite from the three Affinity Stone wainscoting caps in four gorgeous colors to add an aesthetic style to your faux stone installation. Attach the cap as instructed for each type, using silicone and clamps to securely connect corner pieces.
6. Pre-drill & Countersink 

After sliding your last panels using their convenient tongue and groove connectors, drill your final fasteners to the wall. Our faux stone installation video shows how to do this using several different examples, so we encourage you to check it out before attempting this on your own!
After you've completed installing stone veneer, there is only one thing left to do: ENJOY IT!
Additional Information About Installing Stone Veneer
As homeowners and design enthusiasts ourselves, we strive to provide the clearest instruction and best support to our customers. For this reason and many more, we're proud to offer an abundance of free, online stone veneer installation guides and videos.
If you are curious on how to install our stone veneer panels or need additional support, please call our office during operating hours at: 217-543-3875
Contact us at 217-543-3875 for all your faux stone installation needs!
Learn what makes our USA-made modern stone veneer panels a cut above the rest – or order yours now via our website!
Trust Affinity Stone for Simple Stone Veneer Installation
Now that you know how to install stone veneer, you may be wondering where you can get your hands on our amazing product! Currently, both our Ridge-Cut and Cliff Ledge manufactured stacked stone panels are available exclusively through our trusted dealer base. Simply enter your zip code to find where to buy Affinity Stone near you. At this time, we are proud to have dealers in 9 states:
Kentucky
Ohio
Michigan
Indiana
Illinois
Missouri
Pennsylvania
New York
West Virginia
Shop all of our great colors and products today!
Share this post: