Interior Stone Veneer Panels: Residential & Commercial Inspiration
Unless you've been living under a rock (or a piece of stone veneer), you know that stone is the hottest accent to enhance a home's curb appeal. However, what most people don't know (yet!) is that stone veneer can have just as big an impact on your interior aesthetic. To introduce these styles and kickstart your imagination, we're highlighting some of our favorite uses of interior stone veneer panels!
At Affinity Stone, we craft a line of high-quality manufactured stone that is perfect for interior and exterior spaces. While this trend is still in its infancy, it's being adopted by forward-thinking designers for both homes and commercial spaces. See some of the best ways to incorporate interior stone veneer panels into these spaces.
Using Stone Veneer Inside Your House
While a painted accent wall is certainly eye-catching, a stone wall is a true style showstopper. One of our favorite strategies for using stone veneer inside your house is to place stone on an already visible or prominent area. Here are just a few of the ways you can introduce stone into almost any interior décor:
Enhance the Fireplace
A gorgeous fireplace is already a focal point of whatever room it's in — adding stone doubles down on that. One of the most popular ways to do this involves covering the entire space — from floor to ceiling — around the fixture with stone.
Create a Bathroom Accent Wall
There are very few limits to using stone veneer inside your house. Incorporating it as an accent piece in a master bathroom is a fantastic way to bring an interesting look and texture to one of your most cherished spaces. Since Affinity builds a wide range of stone veneer colors, you'll be able to find a shade to match your color scheme and spa fixtures.
See more about stone veneer accent walls.
Enliven the Living Room
Since the living room is one of the spaces that most people see for the greatest amount of time, it only makes sense to dress it up. When using stone inside your home with a focus on the living room, you have one of two distinct options. Firstly, putting the stone panels behind your TV wall maximizes their impact and makes sure they are always in focus. Secondly, you can put Affinity Stone in a supporting role, by putting it on a smaller wall to make the rest of the color scheme pop.
Learn about how stone veneer boosts home value.
Using Stone Veneer for Interior Walls in Commercial Spaces
There's no question that using stone veneer inside your home can create a personalized space. However, this isn't just an option for homeowners. Business stakeholders and owners often look for ways to make their spaces more memorable for their customers. Using stone veneer for interior walls is certainly a way to achieve an upscale appearance — see some great examples: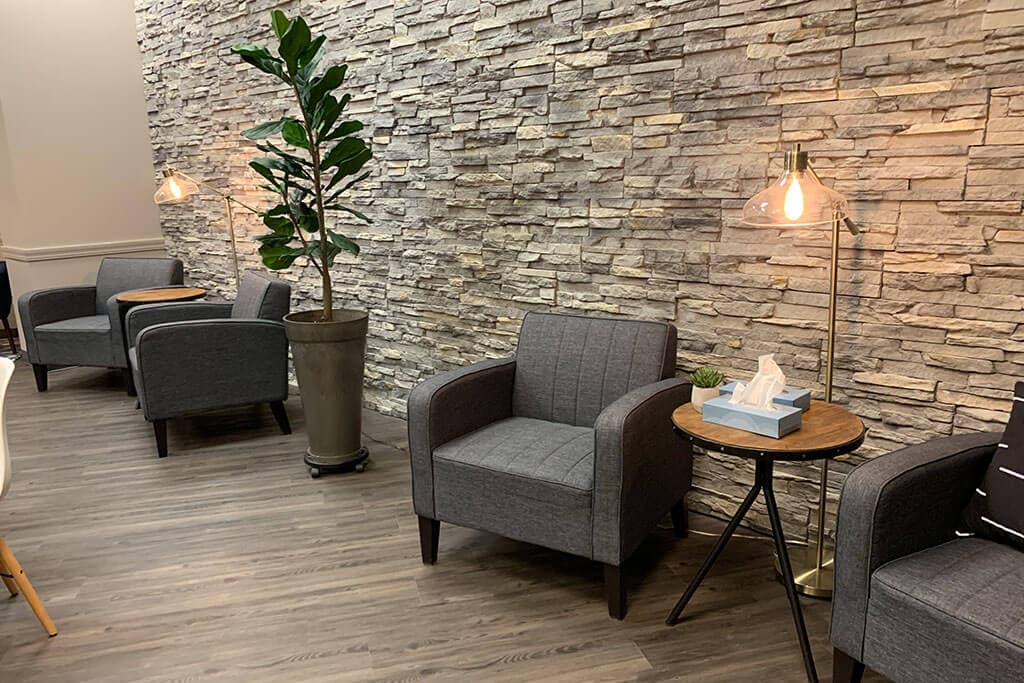 Decorate a Reception Area
This is a fantastic option when upgrading offices where you meet with high-leverage clients. When important people are waiting to meet you, it's always worthwhile to give them a pleasant and comfortable place to relax — all the better if that space is beautiful and memorable! We've seen businesses outfit their reception areas in stone and even add the company name over top of the interior stone panels.
Dress Up a Counter or Bar
Stone veneer for interior walls can play a big role in a restaurant space where the bar or counter is central. First and foremost, beautiful looking stone sets the space apart and instantly makes it stand out. Plus, stone veneer radiates the cleanliness that goes hand-in-hand with this type of space. Consider wrapping the counter or covering the wall behind the main counter in beautiful stone panels to truly wow your customers.
Extra-Tip: Home Bar — One of the most unique uses for interior stone veneer panels, consider trying them out if you have a basement bar. By wrapping the bar itself in stone, you bring a truly one-of-a-kind touch to your home hangout. This kind of accessory can create the feel of being in a luxury lounge or upscale taproom.
Perfect a Large Group Audience Room
This is a similar theory to adorning the living room in a home. A lot of people are going to see this space, so you should make it amazing! Whether it's in a church, a concert venue, a conference hall, or anywhere else, stone can make a huge impact. When it comes to placement, we recommend enhancing the biggest wall that gets the most attention. While stone veneer is certainly an exciting stylistic touch, it's not a risky or controversial one — the vast majority of people think it looks beautiful.
Find Our Interior Stone Veneer Panels in a Store Near You
You're perfectly poised to get ahead of this soon-to-crest design trend. If you're ready to check prices and start shopping, you'll want to find our interior stone veneer panels in a store near you. To do that, simply enter your zip code right here — and find the nearest stores that carry it!
However, if Affinity Stone isn't in your area yet, please reach out to our team using the form at the bottom of this webpage!
Share this post: