How to Elevate Your Outdoor Space with Exterior Faux Stone Panels
Have you heard about the hottest trend in home remodeling: exterior faux stone panels?
A lavish outdoor space is all about the right design executed with the right materials. Stone veneer's outdoor beauty is something that completes any gorgeous space whether your home is built in the modern, classic, farmhouse, or mid-century style!
In today's blog, we'll look at the three most popular backyard spaces and how exterior faux stone panels can take their average appearance to a truly elevated aesthetic!  Keep reading to learn more – or find your local Affinity Stone dealer to order your own exterior faux stone panels now.
Why Incorporate Our Stone Veneer in an Outdoor Space?
Whether you are a homeowner looking for your next big renovation or you're a contractor seeking a game-changing product, you'll find what you're looking for with Affinity Stone's outdoor veneer panels. Unlike other architectural stone products on the market, ours:
Has a Truly Natural Style – Outdoor stone veneer panels are designed carefully to accurately mimic the look of real stone, without any of the nuisances.
Needs No Grinding– While real stone and even some brands of exterior faux stone panels require grinding to install, Affinity Stone's tongue-and-groove systems makes installation a breeze!
Actually Stays Attached – Through decades in the elements, our stone veneer lasts. You and your customers will NEVER have to worry about your exterior faux stone panels popping off since they are screwed in!
Plus, all our panels are manufactured right here in the USA. Now that you know why stone veneer outdoors is a great option, let's talk about how to incorporate it into your design!
Exterior Stone Veneer Siding
Exterior stone veneer siding is a popular choice among homeowners in the United States because of its versatility. Designed for the face of your garage, house, deck or chimney, Affinity Stone's exterior faux stone panels can be incorporated in a number of unique ways!
While dark gray stone veneer is one of the most popular choices for exterior stone veneer siding, white is also a timeless neutral option, as well.
Depending on the size of your home and the area you want to cover, adding exterior stone veneer siding can cost between $3,750 – $13,000.
Check out the many ways customers have already used and loved our exterior stone veneer siding panels on their homes – or get a custom quote for your ideas today!
Stone Veneer Outdoor Kitchens
What do you get when you combine the luxury of an outdoor kitchen with the stylistic appearance of stone veneer? A backyard BBQ you'll love for life!
The flexibility and easy installation of Affinity Stone's exterior faux stone panels means you can create the exact grill space, bar, island, fireplace, or backdrop you desire! Pair it with a pergola, pavilion, or other shade structure for a true cabana feel.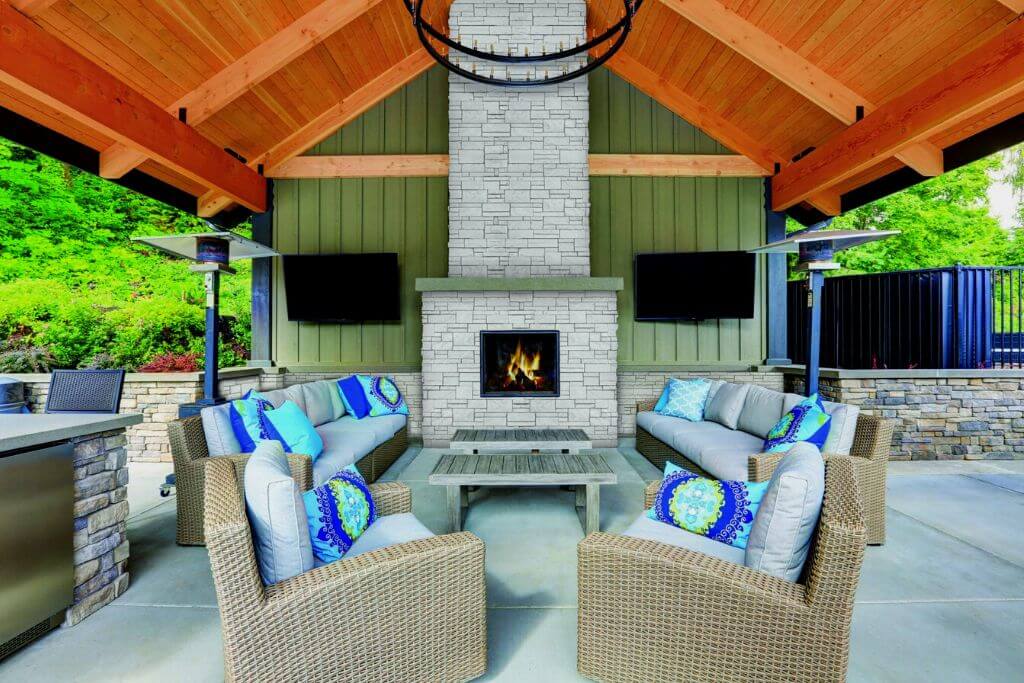 Porch Stone Veneer Ideas
Add a touch of rustic elegance via craftsmen columns, wainscoting or an accent wall included in your porch stone veneer layout. Installing porch stone veneer on your home is also a great way to instantly increase curb appeal and resale value, since it is a luxurious design element that can be seen from the road (unlike backyard renovations which often are hidden by fences or landscaping).
To help make the installation of porch stone veneer simpler, we've created innovative column wrap kits! These kits give you everything you need to easily install lovely, wrapped columns on your front porch OR back deck.
Both the column kits AND standard porch stone veneer panels are available in all our beautiful Affinity Stone colors including Copper Creek, Cambridge, Aspen, Glacier and Yukon. Find your favorite mortarless stone siding color here!
Exterior Faux Stone Panels from the #1 USA Manufacturer
Now that you know how to elevate your outdoor space with exterior stone panels, it's time to get some fitted on your own house! Affinity Stone, headquartered in Arthur, IL is home to one of the best stone veneer panels on the market. Our 50-year warranty, versatile looks and colors, innovative installation process and customer service is what makes our exterior faux stone panel company a cut above the rest!
Ready to order? Use our free, online stone veneer product calculator to discover how many exterior faux stone panels you'll need for your project. Then, get a price quote and contact any of our local dealers!
Share this post: